ALL-FLO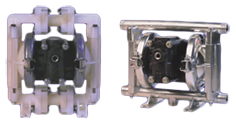 Welcome to ALL-FLO which is handled solely by our Alberta Office.
ALL-FLO is committed to the pursuit of designing and manufacturing the highest quality Air Operated Diaphragm Pumps available to industry.
Since the beginning in 1986, ALL-FLO engineers have used their extensive knowledge of today's engineered materials, advanced air system logic and manufacturing techniques to develop the superior group of lube-free, air operated diaphragm pumps found in their catalogue. Every pump is performance engineered and quality built to provide trouble-free service under the toughest conditions.
Simple Operation
Double diaphragm pumps are operated by compressed air or any non-flammable compressed gas. The pumping stroke begins as air is delivered by the air distribution system, putting pressure on one diaphragm and then the opposite diaphragm. The two diaphragms are linked together by a common rod. The pumping stroke on one side is simultaneously the suction stroke on the opposing diaphragm alternately drawing fluid in one side while discharging fluid from the other side.
Advantages...Make ALL-FLO First Choice
Pumps Anything That Will Pour
Wide Range of Pump Types and Sizes
Patented Lube-Free Air System
Will Not Stall at Slow Speeds
100% Tested Prior to Shipment
Self-Priming
Non-Electrical
Runs Dry Without Damage
Infinitely Variable Flow Rate
Intermittent Operation or Continuous Duty
Pumps Fluids Which Contain Particles
Pumps High Viscosity Fluids
Reduced Solvent Flash-Off
Simple Modular Design
Dual Manifold Capability for 1/4" to 1" Models
Parts Interchangeable between Models and Sizes