Skinner Power Systems

With a rich heritage in steam that goes back to 1868, Skinner Power Systems, manufactures single-stage, steam turbines of proven design for mechanical drive and electric power generation for petrochemical, marine and other industrial services. Over 20,000 turbines have been installed providing many years of operating experience driving pumps, fans, blowers, compressors, mills, electric generators and other equipment.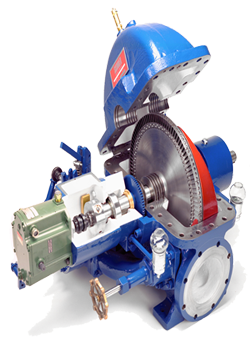 The Skinner line of single stage steam turbines has continually evolved from the first Delaval based design and incorporates the innovations and refinements of industry leaders Dean Hill, Wing, Manubat, Hayward Tyler and Skinner. We offer designs of proven performance, durability, reliability, flexibility and economy.
The Skinner (S/SB) line offers models that cover the range of powers from 0.5 to 2000 HP (0.3 to 1490 kW) and all pressures and temperatures to 900 psig/900°F (63 kg/cm2g 482°C) inlet and 175 psig (12 kg/cm2g) backpressure.
Skinner Power Systems can provide the driving power you need in a variety of configurations... Mechanical Drives, Induction Generators, and Synchronous Generators. Skinner Power Systems can supply complete mechanical drive and electric generating packages to your specific application. By engineering the system, rather than just packaging components, we provide total "Package Responsibility"
Austin & Denholm is the Authorized Service Centre for Skinner Power Systems. See our Overhaul and Repair Facility.